Choosing Our Student Apartments In Kent
You deserve total freedom and flexibility in your student living situation.
But finding student housing near Kent State University is a matter of necessity — not a matter of convenience. You want to make sure that you're landing a good deal when you go to sign that lease, something that's going to be a completely stress-free living situation for you. After all, you're living here in the heart of Kent to study and further your career, not to worry about your living situation.
At Kent's Best Apartments, we think that students deserve a living situation that's specifically designed just for people like you. Don't you agree?
To find out more about why Kent's Best Apartments provides the premier apartments in Kent catered to Kent State University students (that's you!), keep reading below.

What Makes Our Kent Apartments The Ideal Living Situation For Kent State Students?
---
Everything You Need, Right Here
Most people that move out to Kent for college don't bring a car with them. Some students keep their car, and they're willing to deal with on-campus parking, navigating the maze of off-campus crosswalks, pedestrians, and all of the other headaches that accompany driving around in a college town. But in reality, the majority of college students live on or near campus, relying on their own two legs to get to class.
Of course, it's not just access to the heart of campus that matters, but access to just about everything else that you need to live. And while we don't have a full-on supermarket integrated within our three apartment communities in Kent, we have just about everything else that you could possibly want or need (within reason) to get the most out of your time when you're not studying.

Our Commitment To You
When everyone focuses on what they do best, great results are practically inevitable. In other words, when you dedicate your time and effort toward being a student and we focus on taking care of Kent State University students outside of campus, everyone is doing their job. This means that you can rest assured knowing that you have a warm, quiet, and comfortable place to come back to after a long day of lectures, exams, and studying on campus.
Kent's Best Apartments has no allegiance to anyone else but the students of Kent, and we're confident that our commitment to you will shine through your apartment experience!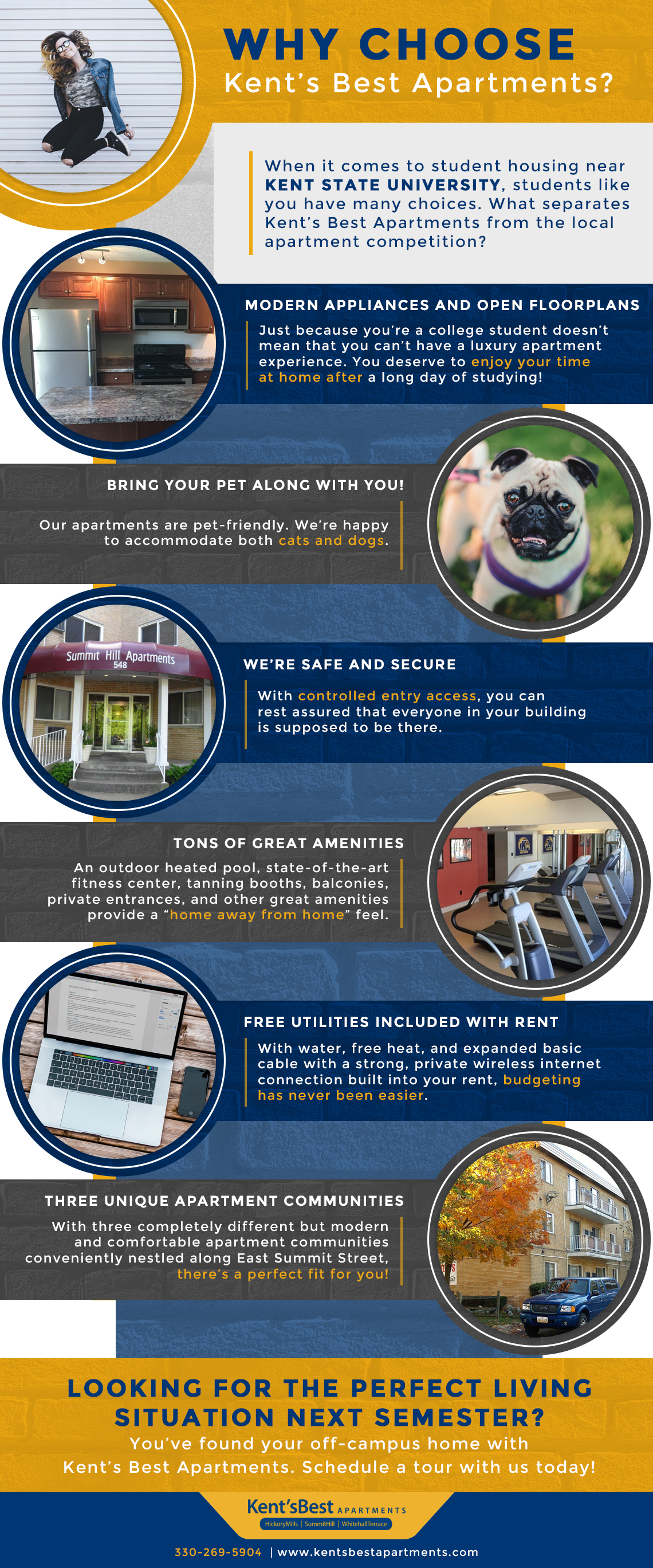 Contact Us Today To Get Started!
Whether you have any questions, concerns, or general comments about our pet-friendly student apartments in Kent, we're here for you. Reach out to Kent's Best Apartments today.